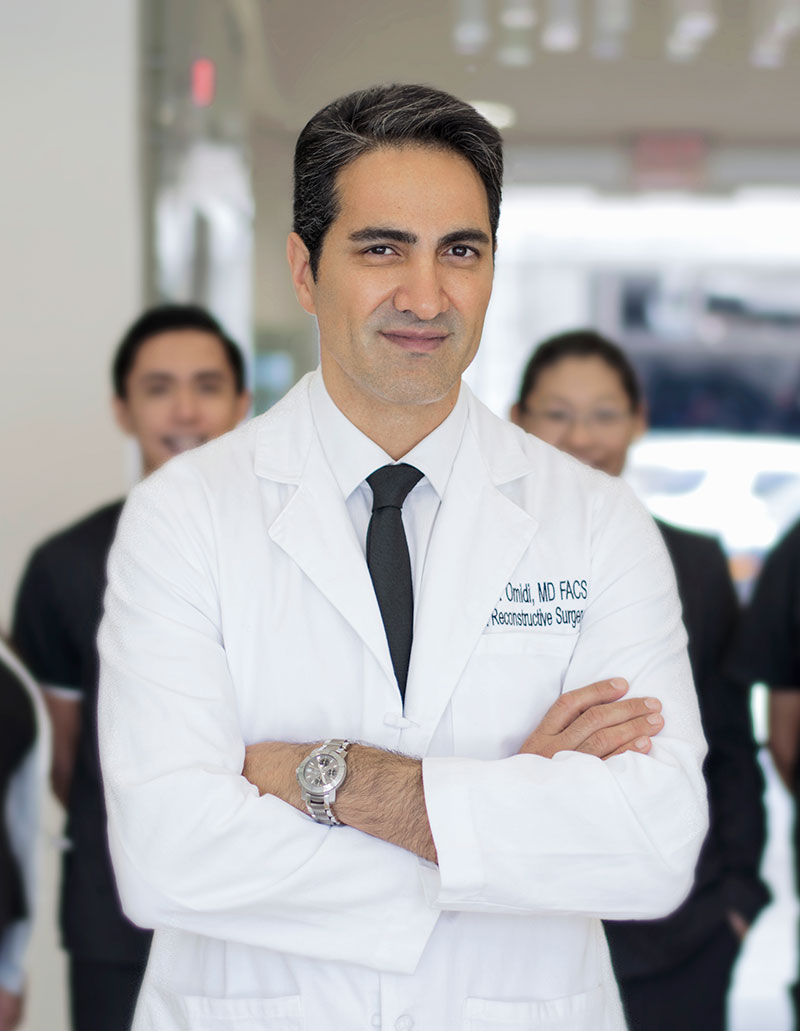 Dr. Michael Omidi, M.D., F.A.C.S. is a double-board certified plastic surgeon practicing in Beverly Hills and the Greater Los Angeles area. Dr. Omidi has performed thousands of face, nose, breast and, body procedures over the last 15 years, fine-tuning current day procedures with his techniques to achieve exceptional results while maintaining optimal patient safety.
His background as a board-certified breast and abdominal surgeon has allowed him to advance current techniques in breast and body contouring. He is one of the few plastic surgeons that has had advanced training in facial and nose contouring surgery and performs many complex revision nose, eyelid and face surgeries.
Dr. Omidi has built a reputation for delivering consistently excellent results through combining safe surgical and non-surgical modalities such as lasers and radiofrequency procedures that promote quick recovery.
Dr. Michael Omidi's peers and patients alike have repeatedly rated him as the top plastic surgeon on reputable review sites.
Dr. Omidi has been ranked #1 plastic surgeon in Beverly Hills out of 246 by RateMDs for three consecutive years, named as the best Breast Augmentation and Rhinoplasty Doctor by Cosmetic Town Journal and featured on the hit E! reality television series Dr. 90210. Dr. Omidi is caring and passionate about every patient and procedure he performs.
Dr. Omidi has a down-to-earth and humble demeanor spending ample time to listen to his patients and identify their exact needs. Dr. Omidi personally organizes and funds his own team of doctors and nurses to take pro bono international missions treating patients with pediatric deformities, burns, cleft lips/palates, head/neck tumors, and breast cancers.
Dr. Omidi was recently named one of America's Most Honored Professionals and also received the Vitals Compassionate Doctor award.
Some of Dr. Omidi's notable accomplishments include being a Magna Cum Laude graduate in undergraduate education and graduating with distinction in research in his medical school training. Dr. Omidi has served as an Instructor of Surgery at the prestigious Northwestern University Hospital in Chicago and served as the Chief Resident in both Northwestern University Hospital and the University of Medicine in Newark, NJ.
He has had additional training in facial cosmetic, pediatric and craniofacial reconstructive surgery at Miami Children's Hospital. He maintains board certification by the American Board of Plastic Surgery, American Board of Surgery, is a fellow of the American College of Surgeons and a member of the American Society of Maxillofacial Surgery.