Mini Tummy Tuck
Conveniently located to serve the areas of Beverly Hills and Greater Los Angeles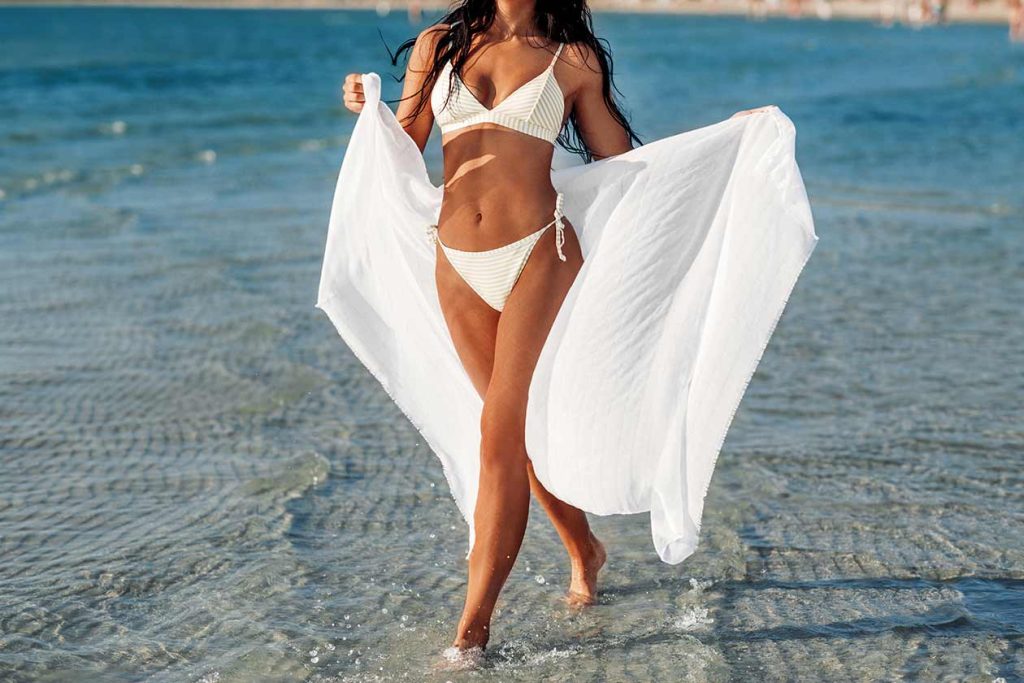 A mini tummy tuck, also called mini-abdominoplasty, is a procedure that improves the appearance of the lower abdominal region. It is a partial abdominoplasty ideal for patients who carry a minimal to moderate amount of surplus fat and loose skin below the navel. (1) (2) After all, stubborn stores of belly fat can't always be eliminated through diet and exercise, and the only way to permanently address loose, sagging skin is surgery. A mini-abdominoplasty helps patients to restore a tighter, smoother profile to their lower abdomen. This procedure is ideal for
people struggling with a "pooch" after weight loss or pregnancy. Mini tummy tucks aren't suitable for everyone, but they can help the right patient attain last-mile results for a trimmer, more sculpted abdomen.
Michael Omidi, MD, FACS performs a wide range of today's most in-demand aesthetic procedures, and helps patients to renew their confidence so that they can enjoy everything life has to offer. If you are interested in learning more about a mini-tummy tuck and if it may be right for you, contact us today at our Beverly Hills office, at (310) 281-0155, or through our online contact form.
Before and After Photos
About Sagging Tummies
The skin on our stomach is vulnerable! This part of our body is constantly expanding and contracting. And, with decreasing levels of collagen and elastin as we age, life changes that stretch the skin can leave it unable to "snap back." Unfortunately, this can occur anywhere on our body as the years pass. Skin laxity on the abdomen is caused by a number of factors including:
Aging
Gravity
Pregnancies
Sun exposure
Genetics
Hormonal changes
Weight loss or gain
Environmental factors
An abdominoplasty provides both aesthetic and functional results.(1) During the procedure, Dr. Omidi may suture together muscles in the lower abdomen, and remove fat in addition to excising surplus skin. This creates a flatter contour of the abdominal wall while also strengthening the abdominal muscles. A mini-tummy tuck, while still a major surgery, is less invasive than a full tummy tuck. In cases where the abdomen carries a disproportionate amount of fat, liposuction may be utilized to remove excess fat. Additionally, a mini-tummy tuck may minimize the appearance of stretch marks, depending on their location. A flatter lower abdomen can create a more toned silhouette that boosts confidence.
What is the Difference between a Mini-Abdominoplasty and a Traditional Abdominoplasty?
Full Tummy Tuck
A full tummy tuck treats both the upper and lower abdominal regions and thus offers a more dramatic improvement in the definition of the patients' abdomen. Additionally, a full tummy tuck:
Takes two to five hours
Repairs separated abdominal muscles
Treats moderate to severe skin laxity
Treats sagging due to extreme weight loss or gain
Is ideal for significant changes to the abdominal region post-pregnancy
A full tummy tuck is typically performed to correct diastasis recti, a condition where the muscles along the abdominal wall separate due to pressure from the growing baby during pregnancy. (2) Diastasis recti can occur above and or below the belly button and affect core strength, create an unwanted bulge in the abdomen, and has other symptoms such as lower back pain, incontinence, and pain during sex. Patients with more severe cases of diastasis, or who have separated muscles above their navel usually require a full tummy tuck in order to resolve this condition. An incision is made just above the pubis, and extends between the hip bones. Another is made around the navel, or umbilicus, so that the skin can be lifted to access the separated abdominal muscles above the belly button. Once the necessary adjustments have been made and the skin is redraped, a new opening in the skin is made to accommodate the navel.
Mini Tummy Tuck
A mini-tummy tuck is a less extensive procedure and only addresses the lower abdomen from the belly button to the pubis. It can be performed using local anesthesia with IV sedation rather than general anesthesia. A mini-tummy tuck
Takes about 1 to 2 hours to complete
Does not treat the upper abdomen
Does not reposition the belly button
May require a shorter recovery time than a full abdominoplasty
Benefits
A mini tummy tuck can offer significant improvements for the right patients. Those with a lesser degree of loose skin or a pooch below their navel can still achieve a flatter, firmer tummy with a smaller incision and a less invasive surgical procedure. And, once the excess skin is removed, patients enjoy fewer stretch marks.
Candidates for a Mini Tummy Tuck
A mini-tummy tuck creates a trim, defined contour for the lower abdomen. You may be a good candidate for a mini-tummy tuck if you:
Have damaged muscles in the lower abdomen
Are in good overall health
Are at or near your ideal weight
Have a slender build and have minimal to moderate amounts of subcutaneous abdominal fat
Have moderate skin laxity below the belly button (1)
You may not be a good candidate if you:
Are a smoker
Have underlying health conditions such as cardiopulmonary disease, uncontrolled diabetes, or cirrhosis
The best way to determine whether a mini tummy tuck is right for you is to schedule a consultation with a board-certified surgeon.
Personal Consultation
Dr. Omidi is a double-board certified plastic surgeon who has helped patients to achieve a flatter, more appealing abdomen with the mini-tummy tuck procedure. Patients can also experience an improved quality of life and muscle strength. In your consultation, we will discuss the challenges you face due to changes in your lower abdomen. You'll have the chance to see before and after photos of former patients with similar conditions so that you get a better idea of what the procedure can accomplish, and what you can expect from your final results. Dr. Omidi and his staff will be able to answer any questions that you have so that you can better understand your options and make a confident decision. If you are ready to take the next step, contact us today at our Beverly Hills office, at (310) 281-0155, or message us online via our online contact form. You can learn more about our other procedures on our blog.
Preparation
Preparing for a mini-tummy tuck in advance will ensure that you experience the best results possible from your procedure. You'll be given a detailed list of instructions to follow to prepare for surgery.
Avoid blood-thinning medications. Certain prescriptions, over-the-counter painkillers, vitamins, and supplements can cause increased bleeding. You'll be given instructions on what you should avoid and any modifications you should make to your regular medications.
Avoid cigarettes and other tobacco products. Smoking can increase the risk of complications and delay the healing process.
Prepare for your recovery. Create a quiet, comfortable place in your home to recover. Rest will be essential in the first several days after surgery. Make sure that everything you need will be within reach to avoid any unnecessary straining.
You won't be able to drive for the first several days after surgery. So, we recommend making sure that you have everything you need on hand. Fill your prescriptions in advance, and stock up on ready-to-eat meals and other items to ensure your recovery is as comfortable as possible.
Procedure
A mini-tummy tuck is generally completed in about one to two hours.
After you've met with Dr. Omidi to review the procedure and so that he can make the necessary markings, you'll be prepped for surgery and administered anesthesia.
A horizontal incision will be made just above your pubic area. Mini tummy tuck incisions are often about six to twelve inches shorter than that used in a full tummy tuck.
The skin will be lifted from the underlying tissues, allowing Dr. Omidi to access the abdominal muscles and make any necessary repairs. He'll place sutures to rejoin separated muscles in a process called plication. This tightens and smooths the area.
Unwanted fat deposits can be removed, and after the skin is redraped, any surplus skin will be trimmed away to create a smooth, flat lower abdomen. The incision is then closed using a series of sutures that will eliminate any unnecessary tension and create the best possible aesthetic outcome.(2)
Scarring from the incision–which fades with time–is easily concealed by undergarments or a bikini bottom.
Recovery
You'll need a trusted friend or family member to drive you home and assist you for at least the first 24 hours after your surgery. You'll be given prescription pain medication to manage any discomfort, and Dr. Omidi and his team will give you detailed instructions on how to care for your healing incision. It's important to avoid placing any strain on the incision as it heals, and it's important to keep your torso elevated as you rest. Pillows under your knees can help alleviate unnecessary tension on the incision. If you are a good candidate for a mini-tummy tuck, one of the chief benefits of the procedure is that recovery time is shorter than that of a full tummy tuck. This is because the incision is typically shorter, and a smaller area is being treated. Recovery will take about six weeks. After two weeks, you may resume light activity. You'll return to Dr. Omidi's office for regularly scheduled follow-up appointments so that he can monitor your progress.
Results
Your results will become visible as swelling resolves over the next several months. You'll be able to enjoy restored muscle strength, a flatter lower abdomen, and with proper scar care, your incision line will fade significantly within a year. With proper diet and exercise, results are long-lasting. However, weight gain and future pregnancies will reverse results.
Cost of a Mini Tummy Tuck in Beverly Hills
The cost of a mini tummy tuck will vary depending on each patient's specific needs and goals, the size of the treated area, the volume of fat removed, and the type of anesthesia being administered. We will be glad to provide an approximate quote in a one-on-one consultation.
References
Regan JP, Casaubon JT. Abdominoplasty. [Updated 2022 Jul 25]. In: StatPearls [Internet]. Treasure Island (FL): StatPearls Publishing; 2022 Jan-. Available from: https://www.ncbi.nlm.nih.gov/books/NBK431058/
Klinger M, Klinger F, Giannasi S, Bandi V, Vinci V, Catania B, Lisa A, Veronesi A, Battistini A, Giaccone M, Caviggioli F, Maione L. Aesthetic and Functional Abdominoplasty: Anatomical and Clinical Classification based on a 12-year Retrospective Study. Plast Reconstr Surg Glob Open. 2021 Dec 20;9(12):e3936. doi: 10.1097/GOX.0000000000003936.