Rhinoplasty
Conveniently located to serve the areas of Beverly Hills and Los Angeles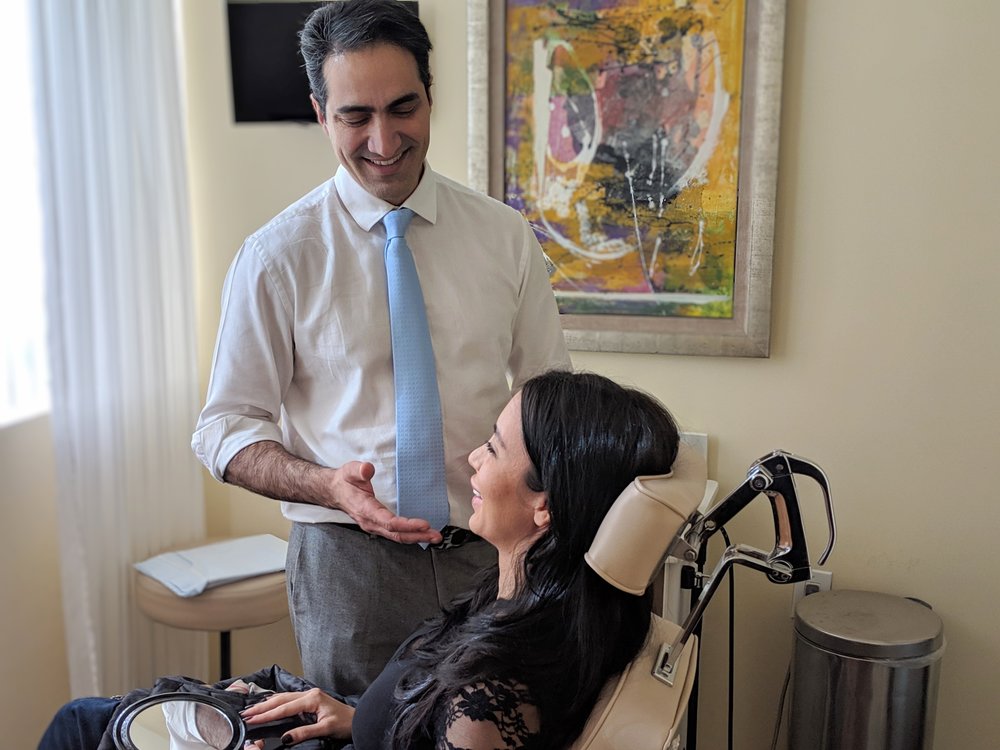 In Beverly Hills, where Dr. Michael Omidi frequently treats his patients, rhinoplasty has become so common that you often see people walking around in broad daylight with bandages on their noses. This should come as no surprise in a neighborhood where plastic surgery is so widespread. But no matter where you live, why should you feel uncomfortable with a prominent bump on your nose or overly wide nostrils, when you can have them corrected simply and easily?
Before & After Photos
Are You the Right Candidate for Rhinoplasty?
Dr. Michael Omidi's patients often express interest in rhinoplasty because they are unhappy with how their noses have aged. Other patients admit to always feeling self-conscious about the nose they were born with. During the consultation, Dr. Omidi will carefully go over your options and let you decide whether you want to perform rhinoplasty alone or combine it with a chin implant for more spectacular results. Oftentimes, even slight changes to the shape of the nose can produce a dramatic effect on appearance, improve your breathing, and fill you with self-confidence.
Benefits of Rhinoplasty
A boost in self-confidence
Correction of birth defects
Enhanced facial symmetry
Treatment of breathing problems
Reduction of snoring
More youthful appearance
Repairing injured or broken noses
A boost to your career success
Revision of prior nasal surgery
Getting Ready for Rhinoplasty
Dr. Michael Omidi will instruct you to stop smoking and avoid medications that contribute to increased bleeding during a rhinoplasty procedure. The day before surgery, you should take care not to drink or eat anything after midnight. On the morning of surgery, take a prescribed nausea medication with a small sip of water and avoid wearing makeup or perfume.
How is Rhinoplasty Performed?
Rhinoplasty requires only one surgical procedure lasting from two to three hours with the results proven to bring you satisfaction for the rest of your life. The duration of your procedure will depend on whether you choose to elect open or closed rhinoplasty.
An experienced anesthesiologist or CRNA will use general anesthesia for your safety.
Dr. Michael Omidi will make incisions to access the inner structure of your nose.
He may remove or add nasal bones and cartilage to reduce or increase the size of your nose.
He may remodel the tip of your nose using tip grafts made of cartilage.
Dr. Michael Omidi may also use fat grafts or tissue fillers to add volume to desired areas.
Recovery
Rhinoplasty is performed as an outpatient procedure. In other words, you will be able to return home on the day of surgery.
You should plan on staying in bed with your head elevated during the first day following the procedure.
Some degree of swelling and bruising may appear immediately after the procedure and is considered normal.
You may expect to resume your normal activities within one week.
You should continue to avoid any contact sports or strenuous activities for at least 3 weeks after surgery.
During this period, Dr. Omidi and his staff will follow up to ensure that you are going through a smooth recovery.
If necessary, Dr. Omidi will prescribe medications to relieve any potential discomfort.
Most bruising will resolve in approximately six weeks. However, some swelling may persist even after this period and take up to a year to resolve completely
As swelling subsides, your results will continue to improve. Once your new nose settles, you can expect it to bring you confidence and satisfaction for many years to come.
Open Rhinoplasty vs. Closed Rhinoplasty
During your consultation, Dr. Michael Omidi will determine whether you'd benefit from an open or closed rhinoplasty. Most of the time, ethnic rhinoplasty will be performed as an open procedure, which guarantees greater precision and control of the underlying nasal structures.
A closed rhinoplasty involves incisions made inside the nose only. An open rhinoplasty calls for an incision under the nasal tip, between the nostrils, and lifting the skin to operate on the underlying nasal structure.