Single Follicle Hair Grafts
Conveniently located to serve the areas of Beverly Hills and Greater Los Angeles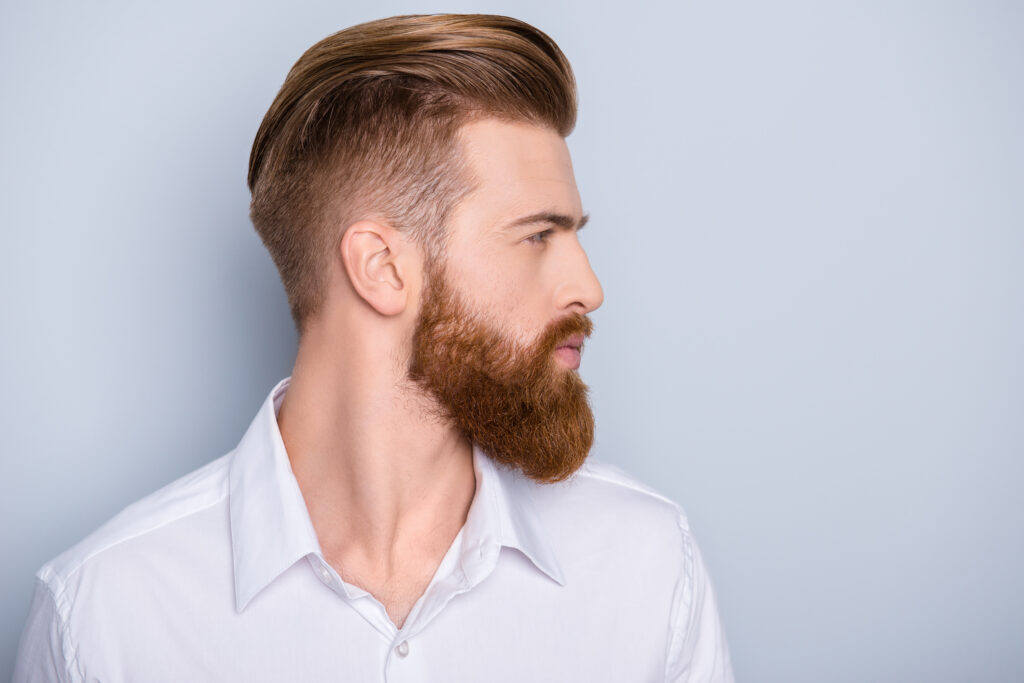 Follicular Unit Extraction (FUE) is a surgical hair restoration technique that allows a surgeon to harvest grafts of hair, as small as one single hair follicle, for precise transplantation and effective results. Single follicle hair grafts can be used to reduce the aesthetic appearance of hair loss, or androgenetic alopecia, as it is known in the medical field. This type of precise hair restoration technique, combined with the regenerative effects of Platelet Rich Plasma (PRP) leads to natural, long-lasting results in patients. What's more, because it's a less invasive procedure with no scalpel, no sutures, no staples, and no prominent scarring, there's a faster recovery time compared to other hair restoration techniques.
If we are genetically predisposed to thinning hair or baldness, it may feel like it is out of our control, and a solution may feel out of our grasp. In fact, both men and women can suffer from hair loss. Up to 50 percent of males and females can be affected by androgenetic alopecia. It is characterized by the progressive loss of terminal hair after puberty. (1) Terminal hair is the name given to the longer, thicker, pigmented hair that grows on the scalp. Unfortunately, this hairloss follows distinctive, noticeable patterns in both sexes, and can result in embarrassment, distress, self-consciousness, and even depression in some patients. In the artful hands of an experienced surgeon, FUE techniques that employ single follicle grafts can re-establish your hair's volume and vigor with effective accuracy!
Michael Omidi, M.D., F.A.C.S. is a double-board certified plastic surgeon based in Beverly Hills. He has many years of experience, and performs numerous different procedures, to help his patients solve their aesthetic challenges. To find out about hair restoration in Los Angeles, call our Wilshire Boulevard offices at (310) 281-0155 or request a consultation with Dr. Omidi via our simple inquiry form.
About Follicular Unit Extraction
What Is a Follicular Unit?
A follicular unit is a natural cluster of between one to four terminal hairs. Each hair in the unit also includes a sebaceous gland and duct (responsible for oil production), and an arrector pili muscle, the tiny muscle that attaches to the bottom of the hair follicle. (2) In the past, FUE was thought to be a challenging procedure, but it has since rapidly gained popularity. This can mainly be attributed to rising patient demand, the availability of better instrumentation and greater surgical skill. (3) Surgeons can use FUE in a number of different areas of hair loss.
Scalp
FUE can restore a more youthful appearance to the scalp by using a patient's own "donor" hair. Usually, this hair is taken from the back of a patient's head, where hair is more abundant and robust and carefully placed into the area of hair loss. For men, the target area for FUE is usually immediately above the forehead and on the top of the head, as these are the areas where androgenetic alopecia is most prominent in males. In female patients, the top and crown of the head are most commonly treated.
Facial Hair
As well as aesthetically noticeable patchiness, the inability to grow a full beard or mustache can leave a man with feelings of inadequacy and disappointment. Like the hair of the scalp, facial hair growth and patterning in men involves genetic factors, (4) that are somewhat out of our control without cosmetic surgical assistance. Single follicle hair grafts for men with these issues using FUE technology can provide fuller facial hair and a more masculine look.
Eyebrows
Our eyebrows should bring balance to our facial features. But, when our hair does not grow in a uniform way along our brow, it can result in an asymmetrical look. Single follicle grafts are particularly advantageous for eyebrow rejuvenation as each individual hair can be placed precisely at the correct depth and angle, to restore a fuller, natural-looking brow.
Benefits of FUE
Many patients opt for FUE hair restoration because it is considered less painful than other methods, such as FUT (Follicular Unit Transplant). Single follicle hair grafting is beneficial because:
It has a 90% or higher hair survival rate. (5)
It results in fuller, thicker hair.
There's minimal noticeable scarring.
It's an in-office, outpatient procedure.
It boosts patient confidence and self-esteem.
It has a faster recovery period than FUT.
Dr. Omidi takes his time to provide the highest standard of care during every one of his surgical procedures. As each hair follicle is placed individually, precise care and attention can be devoted to the hair grafting process. This meticulous attention to detail provides patients with first-class hair restoration results.
Contact Dr. Omidi's Beverly Hills offices today to find out how single follicle hair grafts could help you restore natural-looking coverage.
Candidates for FUE
Most hair restoration procedures take place with patients who are older than 25 years, as the pattern of hair loss is less predictable in younger men (2) You may be a good candidate if you have an established hair loss pattern that is causing you distress. Hair restoration treatment may not be a good fit for your circumstances if you have:
Unrealistic expectations of what a FUE procedure can achieve
A unusual hair loss pattern or unexplained scarring of the scalp
Many brittle or broken hairs that would be unfit for transplantation
A pattern of excessive shedding with a medical or non-medical cause
Scalp or skin pain, inflammation, burning, itching
The best way to find out if single follicle hair graft FUE is right for you is to speak to Dr. Omidi personally at an individual consultation.
Personal Consultation
Dr. Omidi will meet with you for an individual consultation regarding your hair restoration procedure. During this session, you can discuss the areas you are looking to treat and he will examine them. He will pay particular attention to the areas suitable for harvesting hair grafts and the area of treatment itself. At this time he will outline the single hair follicle grafting procedure and show you how it could benefit you. Please feel free to ask any questions you may have about the treatment at this time. If you are a good fit for the procedure, we will schedule a day for your treatment.
Preparation for FUE
To prepare for a hair restoration procedure, Dr. Omidi asks all of his patients to do the following things:
Massage your scalp every day for a few weeks to encourage blood flow.
Avoid smoking for at least a day before your surgery.
Avoid alcohol a few days before surgery.
Avoid aspirin or blood thinning medication for about 2 weeks before your surgery.
Don't take any vitamins or dietary supplements for 2 weeks before your surgery
Take medications such as minoxidil (Rogaine) as directed
Have an electrocardiogram (ECG) and blood tests done before surgery
FUE Hair Restoration Procedure
FUE is a hair restoration technique that uses small punches (0.8-1 mm/0.031-0.039in in diameter) with a specialized tool to extract the follicular units. Once the donor area has been shaved and prepared with a numbing agent, Dr. Omidi will carefully remove each single follicular unit and prepare it for grafting. He will make small incisions in the area of treatment. He will then perform the delicate task of reintroducing hair to the areas for treatment. This process takes some time, but this method allows for extremely precise hair placement. After the area has been thoroughly cleansed and bandaged, your treatment will be complete.
Recovery & Results of FUE Treatment
In the days after your surgery you should avoid washing or showering for about three days and try to spend time relaxing at home. You may need to take a few days off work to give your body an optimal healing environment. In the first few weeks, do not brush or comb your hair and avoid wearing any headwear such as hats or caps. Work your way up to more strenuous activity such as workouts at the gym from the second week onwards.
In your healing period, you may notice some hairs in the treated area fall out. This is a normal and expected part of the healing process. As your newly placed hair follicles begin to produce new hairs, you will notice your hair thicken and will see lasting results between three and four months after your hair restoration procedure.
Cost of Single Hair Follicle Grafts in Beverly Hills
The cost of each hair restoration procedure varies in price according to each individual's specific circumstances. Please discuss the price of your treatment, along with any other questions you may have about the procedure at your personal consultation with Dr. Omidi.
Stay up-to-date with hair restoration and other plastic surgery techniques by reading Dr. Omidi's blog! Or follow him on Instagram, Twitter and YouTube for the latest cosmetic surgery news in Beverly Hills!
FAQ
Does FUE prevent hair loss?
FUE is not a preventive measure for future hair loss, though it can fix current patchy or balding areas. Usually, patients over the age of 25 who have an established pattern of baldness are good candidates, because it is easier for surgeons to predict donor and recipient areas.
Can I get FUE if I have a patchy beard?
s the scalp, including on the chin and jowls, the upper lip, and even the eyebrows!
Why do people choose single follicle hair grafts?
Single follicle hair grafting for hair restoration is a more accurate method of transplantation because it targets individual follicles. As such, the process takes longer, but can result in effective, natural-looking results with minimal scarring.
References