Nasal Asymmetry
Conveniently located to serve the areas of Beverly Hills and Greater Los Angeles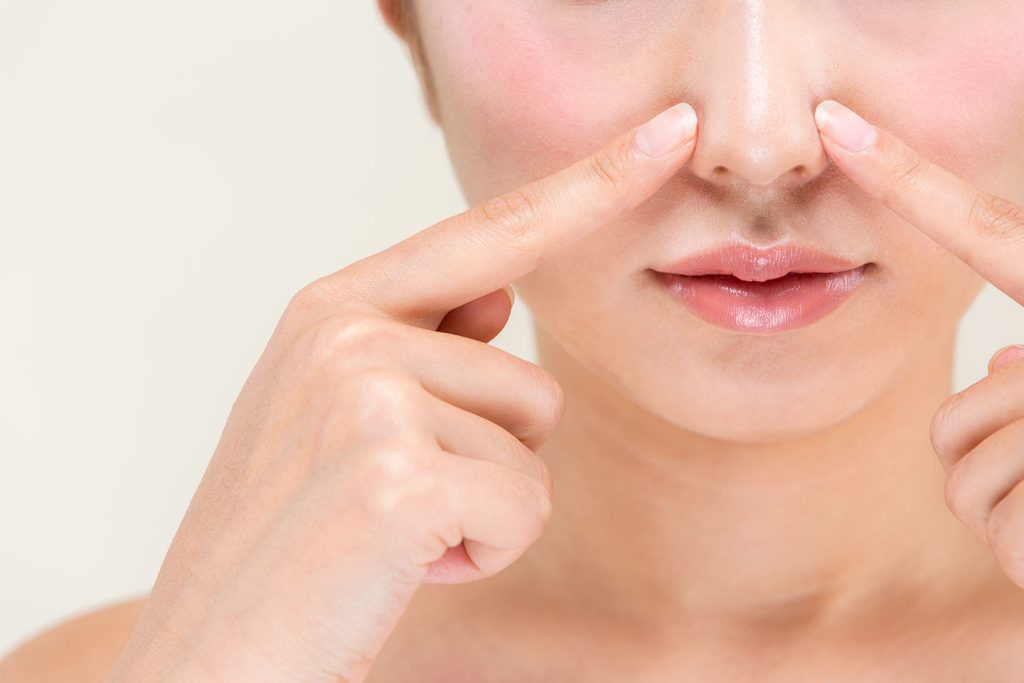 An asymmetrical, or crooked nose is a common reason patients seek a rhinoplasty procedure. Trauma, injury, and genetics can all result in an unbalanced nasal profile, and the problem more often than not involves the nose's inner structures. The nasal septum, the hard bone and cartilage that divides the nostrils, can deviate, which can cause breathing difficulties as well as aesthetic concerns. Nasal asymmetry can also result from a previous rhinoplasty procedure that has not healed correctly, or that was performed poorly. Revision rhinoplasty is often performed to correct noses that did not heal in alignment after an initial rhinoplasty.
As the nose is such an important aspect of our face, any deviation in size or shape can be the cause of self-consciousness and great distress for many. Few effective solutions exist beyond medical intervention. And the most efficient and permanent solution is rhinoplasty surgery.
Dr. Michael Omidi has helped many patients achieve esteem-boosting results with rhinoplasty. Rhinoplasty achieves a more symmetrical and functional nasal structure which can help you feel more confident in your appearance and breathe more easily. If you are interested in learning more about how revision rhinoplasty can help you achieve the nose you desire, contact our Beverly Hills office today at (310) 281-0155.
Before and After Photos
About Nasal Asymmetry
There are methods that aim to disguise nasal asymmetry, however, none are permanent. Makeup and contouring can be an effective solution for minor differences. Dermal fillers offer a non-surgical remedy to nasal irregularities, helping to create a smoother, straighter contour. Rhinoplasty, however, can produce results that improve both the function and visual aesthetics of the nose.
Open And Closed Rhinoplasty Techniques
Minor issues of asymmetry may require a closed rhinoplasty technique, which is less invasive and includes incisions made inside the nose. (1) The main difference between the two procedures is that the incision will be made inside the nose and closed with absorbable sutures that dissolve within one week of treatment. The benefit of the closed technique is that the procedure takes less time, and sutures dissolve quickly. 
The open technique is required for most revision rhinoplasties, such as correcting a broken nose or past rhinoplasty surgeries. Open rhinoplasty involves an incision along the cartilage between the nostrils. (2) This incision allows for the overlying skin to be lifted so that the underlying nasal tissues and bone structure can be reshaped, to create more proportional contours.
To treat a deviated septum, either an open or closed technique will be used depending on the severity of the deviation. This is known as a septorhinoplasty procedure, which will straighten the septum and correct the nasal air passageways.
Benefits of Rhinoplasty & Revision Rhinoplasty
Corrects aesthetic asymmetry
Rectifies problems from a prior rhinoplasty
Opens both airways to improve breathing
Addresses trauma/injury-related problems
Can improve self-esteem and confidence
Improves such as dorsal humps
Candidates
You may be a good candidate for a revision rhinoplasty to correct nasal asymmetry if you:
Are 18 years old or over
Have an asymmetrical aspect of your nose you would like to address
Want to improve breathing function or overall appearance of the nose
Understand possible risks and complications of revision rhinoplasty
Are unhappy with the results of a previous rhinoplasty procedure
Have no history of intranasal drug use
Have no underlying health conditions that could affect your treatment
Have realistic expectations of revision rhinoplasty
Personal Consultation
Dr. Omidi is a board-certified plastic surgeon whose cosmetic and reconstructive surgeries have achieved effective results for patients. At your consultation, we will review your nasal profile and identify the changes you'd like to make. We will also share before and after photographs of previous patients to give you an idea of the outcome, and identify reshapings you find most appealing.
If you are interested in booking a personal consultation to find out how we can help you achieve a more symmetrical nose, contact Dr. Omidi today at the Beverly Hills office today at (310) 281-0155. Visit our blog to learn more about how our surgical and non-surgical procedures are helping to change lives!
Preparation
To prepare adequately, patients should follow Dr. Omidi's guidelines as closely as possible to ensure the best possible outcome.
Stop smoking entirely until otherwise directed.
Avoid sun exposure before and after surgery.
Stop drinking alcohol one week before your procedure.
Don't take blood thinning medications such as Aspirin and ibuprofen.
Fill your prescriptions ahead of time.
Prearrange a ride to and from surgery.
Don't eat or drink anything after midnight the evening before treatment.
Procedure
On the day of your surgery, you will undergo either open or closed rhinoplasty. Dr. Omidi will discuss the technique he deems most suitable for your circumstances at your consultation. Before the start of either procedure, we will administer anesthesia. A revision rhinoplasty may involve bone shaving and cartilage grafting to attain the desired symmetry, shape, and size for the nose.
Open Rhinoplasty 
Dr. Omidi will make a small incision across the base of the columella. The columella is the tissue that separates the nostrils, located at the bottom midline of the nose. Skin on the nose will then be lifted to gain access to the cartilage and bony structures. He will make fine adjustments to the nasal tissues and bony structure. He will use great care and attention to make the necessary changes to address your nasal asymmetry. Finally, the incision will be closed with external sutures.
Closed Rhinoplasty
In a closed rhinoplasty procedure, incisions are hidden in the nostrils. Patients are administered anesthesia before Dr. Omidi accesses the nasal structures. Unlike open rhinoplasty, Dr. Omidi carefully accesses the nasal structures via internal incisions in the nostrils. Closed rhinoplasty procedures generally have shorter recovery periods and minimal scarring as a result.
Rhinoplasty To Repair a Broken Nose
A broken nose treated within two weeks of an injury may utilize a closed technique to correct the fracture. (3) However, after this period, open rhinoplasty may be required as bony fragments have likely started to fuse.(3)
Revision Rhinoplasty
Revision rhinoplasty will require particular care because the first surgery has already altered the nasal structure. There may be less bone or cartilage to work with, and the nose may also have scar tissue. As a result, tissue may be taken from another area of the body. Revision rhinoplasty may take a graft of cartilage from the ear or rib,or from the nasal septum.
After the procedure, your nose will be bandaged. You may also be equipped with an internal or external splint, and nasal drip pad to collect lingering fluids. We will provide instructions on proper maintenance and care.
Recovery
Recovery time will vary from patient to patient. Once you have been cleared to leave the office, your designated driver can take you home. During recovery, patients should follow their post-operative instructions very carefully.
Sleep in an elevated position.
Use ice packs to minimize swelling and reduce bruising.
Avoid lifting or straining as this puts undue pressure on the healing area.
Avoid running and other strenuous activities for at least one week.
Take pain medication exactly as prescribed by Dr. Omidi.
Avoid anything that could knock or cause trauma to the nose.
Do not attempt to blow your nose.
Avoid sun exposure, and wear a high SPF sunscreen when outside.
Bruising around the eyes and nose is common, and will begin to fade in around two weeks. Splints and external sutures will also be removed after two weeks. Some patients experience numbness in the nose in the initial stages of recovery, which will resolve in a few weeks. Three to four weeks post-surgery, swelling will have significantly subsided. We will arrange a follow-up appointment in the weeks that come to ensure you are healing well.
As swelling lessens, you will also begin to see a distinguishable change in the shape of your nose. After one year, full results will have settled in. New cartilage will have fused to the new nasal structure, with a well-defined, symmetrical nasal contour.
Results
After about three months post-surgery, most swelling will have subsided. Your nose will settle into its permanent shape and restored function after about one year when tissues have settled completely. Results from revision rhinoplasty may take longer to appear than those of the original surgery.
Cost of Rhinoplasty in Beverly Hills, CA
As rhinoplasty is a highly individualized procedure, the cost of treatment will vary. Financing options are available. Correction of nasal asymmetry may be either cosmetic, functional, or a combination of both. Dr. Omidi will assess your needs at your consultation to ensure the most efficient and effective treatment plan. To get started with solving your nasal asymmetry, and to receive quality care at our Beverly Hills office, call (310) 281-0155 or fill out an inquiry form.
See Dr. Omidi's outstanding results on Instagram, and read his blog to learn more about rhinoplasty.
References
Fichman, M., Piedra Buena, I.T. Rhinoplasty. [Updated 2022 Jun 21]. In: StatPearls [Internet]. Treasure Island (FL): StatPearls Publishing; 2022 Jan-. Available from: https://www.ncbi.nlm.nih.gov/books/NBK558970/.
Petropoulos, I., Karagiannidis, K., & Kontzoglou, G. Our experience in open rhinoplasty. Hippokratia. (2007). 11(1):35-8, Our experience in open rhinoplasty – PMC (nih.gov). 
Alvi, S., & Patel, B.C. Nasal Fracture Reduction. [Updated 2022 May 24]. In: StatPearls [Internet]. Treasure Island (FL): StatPearls Publishing; 2022 Jan-. Available from: https://www.ncbi.nlm.nih.gov/books/NBK538299/.