Full Tummy Tuck
Conveniently located to serve the areas of Beverly Hills and Greater Los Angeles
A traditional tummy tuck, also known as an abdominoplasty, is a surgical procedure in which excess skin and fat are removed from the abdominal area, and the underlying muscles are tightened. This procedure is typically performed on individuals who have excess skin and fat in the midsection post-pregnancy, after significant weight loss, or due to aging. Other patients may have diastisis recti, which is a spreading of the abdominal muscles that occurs during pregnancy. Have you not been able to achieve a smooth and toned appearance through diet and exercise alone? A traditional tummy tuck can return a loose, flabby abdomen to a more contoured, youthful state. Wear the clothes in the back of your closet that you've saving and get out there and enjoy life with the results of a tummy tuck surgery!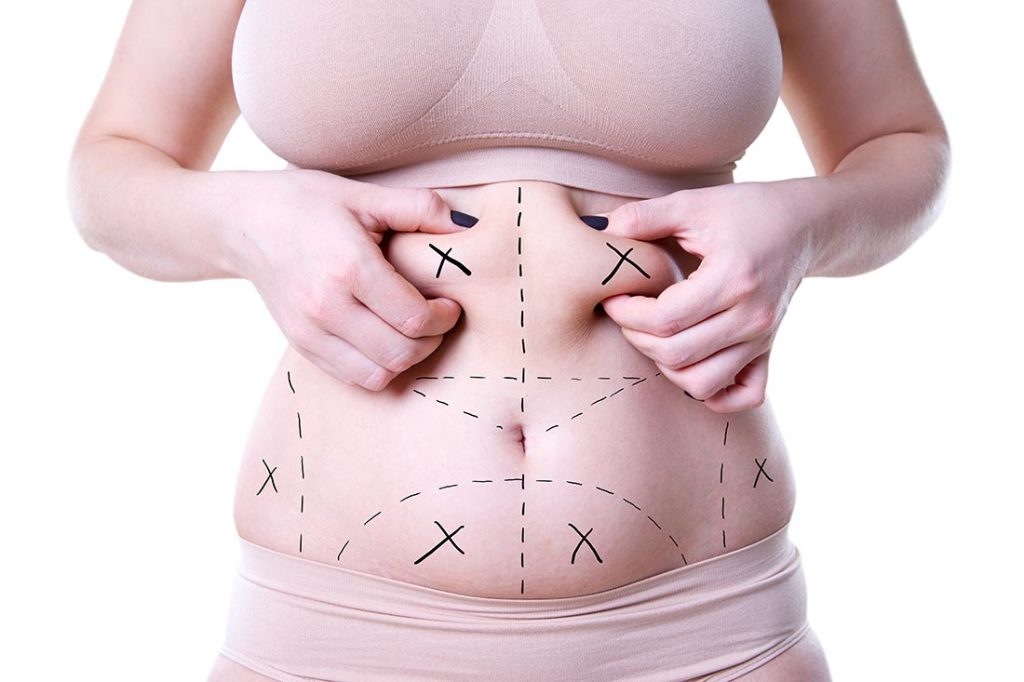 Patients in Beverly Hills and Los Angeles who are concerned with the state of their stomach, turn to Dr. Michael Omidi for help. Dr. Omidi holds dual certification in plastic and abdominal surgery, as a board-certified surgeon. He has the knowledge, experience, and expertise to provide patients with the best possible care for a variety of aesthetic concerns. Whether it's a tummy tuck or any other abdominal procedure, Dr. Omidi is dedicated to helping patients achieve the look they desire. He is known for his exceptional surgical skills and compassionate care, making him a top choice for patients in Southern California and beyond. Get the Instagram abs you're after–call (310) 281-0155 to schedule your consultation or fill out our contact form.
Check in with Dr. Omidi as he shares on his blog in-depth knowledge and insight on the procedures that change patient's lives.
Before & After Photos
View More Photos
Before and After Photos
What is a Traditional Tummy Tuck?
When it comes to addressing muscle separation and excess skin above the belly button, a full tummy tuck is the gold standard. The surgery sinches and tightens the midsection giving loose, overhanging belly fat and muscle separation a corsetted appearance. Men and women who want to improve the look of their abdomen can see a flat, slim, contoured stomach with the methods of a traditional tummy tuck surgery.
While a mini tummy tuck is good for addressing loose skin and fat below the belly button, the traditional tummy tuck is more comprehensive and addresses concerns above the belly button as well.
During a full tummy tuck, Dr. Omidi will make an incision low on the abdomen, and then lift the skin and underlying tissue to repair and tighten separated abdominal muscles. It is estimated that around 50-60% of women experience diastasis recti, or separated abs, during pregnancy. [1] Diastasis recti resolves on its own for some, but for others, sutures to bring the muscles back together is the best option for a flat stomach. During a tummy tuck, excess skin and fat is also removed and the belly button may be repositioned to create a more natural and aesthetically pleasing shape in or out of clothes. All of these elements work together to create the deam midsection.
Why is Belly Fat So Hard to Get Rid Of?
As we age, it is common for the body to experience changes in metabolism, hormone levels, and muscle mass, all of which can contribute to an increase in belly fat. Our body's ability to burn calories decreases in our later years, and if we don't adjust our diet and exercise accordingly, it can lead to weight gain, particularly in the abdominal area.
A full tummy tuck is often recommended for patients who have:
Lost a significant amount of weight
Had multiple pregnancies
A significant amount of sagging skin and muscle separation
A protruding belly caused by genetics.
Often, no matter how hard we diet and exercise, that stubborn fat refuses to budge. Furthermore, no amount of sit-ups (or wishful thinking) can return loose skin to its youthful state. Skin loses elasticity due to a variety of factors, including aging, sun damage, weight fluctuations, and genetics. As we age, the production of collagen and elastin, the fibers that give skin its strength and elasticity, decreases; this leads to wrinkles and sagging skin. Sun damage can also damage collagen and elastin, leading to a loss of elasticity. A tummy tuck removes loose skin and tightens the underlying muscles, creating a flatter, more toned midsection.
What are the Benefits of A Tummy Tuck?
A tummy tuck can benefit patients who are ready to take back control of their appearance, their life, and their happiness.
Eliminate chafing
Enjoy a new wardrobe
Increase mobility
Improve hygiene
Improve self-esteem
Increase intimacy
While there is downtime associated with tummy tuck surgery, the resulting benefits will make it all worth it in the end. Furthermore, with increased mobility patients often find it easier to maintain a healthy exercise routine, which has long-term benefits.
Ideal Candidates for a Tummy Tuck
Around 70% of patients who have lost a significant amount of weight through diet and exercise or bariatric surgery may have loose, sagging skin in the abdominal area that only a tummy tuck can properly address. [2] Mothers who have had one or more children, may have experienced the aforementioned diastasis recti, which a tummy tuck can resolve. Furthermore, patients who are in good health, at or near their ideal weight, and who are non-smokers will be good candidates for abdominoplasty.
To determine your candidacy, book a consultation appointment with Dr. Omidi. Call (310) 281-0155 for our Beverly Hills scheduling coordinator.
Personal Consultation
During your consultation, Dr. Omidi will inform and prepare you to make a decision about your health and your body. Deciding to undergo tummy tuck surgery is an important decision and we are here for you every step of the way. Here's what you can expect during your consultation appointment:
Dr. Omidi will evaluate your medical history, current health condition, and discuss your aesthetic goals.
Dr. Omidi will examine your abdominal area, looking at your skin tone, muscle tone, and the amount of excess skin and fat. He will take measurements and photographs of the area to be treated, to document your condition before surgery.
Dr. Omidi will explain the different types of tummy tuck procedures available, including the traditional tummy tuck, mini tummy tuck and extended tummy tuck. He will also discuss the potential risks and complications associated with the procedure and the recovery process.
Dr. Omidi will provide you with an estimate of the cost of the procedure, including any additional costs associated with the surgery such as anesthesia, facility fees, and follow-up appointments.
You will have the opportunity to ask Dr. Omidi and his team any questions or express any concerns you may have about the procedure. It's important to be transparent about your expectations, and also to follow Dr. Omidi's instructions before and after the surgery to ensure the best possible outcome.
Preparing for Tummy Tuck Surgery
The preparation process will ensure that your procedure and recovery are without complications. If you are a smoker, it is important you quit all tobacco products at least four to six weeks before the surgery, and do not start again until at least two weeks after the surgery. Dr. Omidi will provide you with a list of medications to avoid leading up to surgery, and prescriptions for pain medication you should fill before your surgery date. You should also plan to have someone drive you home after surgery and remain at your residence for 24 hours after your procedure. You may need help with household chores, food, child and pet care, and the like. Prepare a comfortable place in your home in which to recover and make sure you have everything on hand that you might need.
The Traditional Tummy Tuck Procedure
A traditional tummy tuck requires the use of general anesthesia to aid in patient comfort levels. The surgery takes four hours for Dr. Omidi to complete, during which he will perform the following steps:
The procedure typically begins with an incision made across the lower abdomen, from hip to hip and around the belly button.
This tissue is separated from the underlying abdominal muscles.
The abdominals are pulled together and stitched into a tighter position to create a flatter, corsetted appearance.
Excess skin is removed and the remaining skin is pulled down and sutured together, resulting in a tighter, smoother look.
The incision around the belly button allows Dr. Omidi to recreate the navel in a more aesthetically-pleasing position.
After your surgery, you will be taken to an observation area where we will monitor your progress as you wake up from anesthesia.
Recovery After Abdominoplasty
Recovery from a tummy tuck can vary depending on the individual and the extent of the procedure. Generally, the recovery period can last several weeks and may include some pain, swelling, and bruising. It is important to follow the post-operative instructions we provide, which may include wearing a compression garment, avoiding strenuous activity, and getting plenty of rest. It is also important to keep the incision area clean and dry and to avoid exposure to direct sunlight until the incision has fully healed. Dr. Omidi will provide you with detailed instructions and be available to answer any questions you may have. Call (310) 281-0155 with questions or concerns.
What are the Results of a Tummy Tuck?
A traditional tummy tuck will allow you to wear clothing that shows off your new figure. You will feel more self assured as you don swimwear or even in the bedroom during intimate encounters.
Patients who experienced hygeine or mobility issues due to excessive amounts of sagging skin and fat will enjoy a more active, pain-free life. Dr. Omidi can help return you to a carefree state when you are healed and your confidence is boosted.
A traditional tummy tuck can tighten loose abdominal muscles and remove excess skin and fat, but it is not a weight loss procedure. Therefore, maintaining a healthy diet and exercise routine after the surgery is crucial in order to maintain the results and overall health. Additionally, it's important to note that even though a tummy tuck can improve the appearance of the abdominal area, it will not prevent future weight gain or pregnancy from stretching the skin and muscle again.
What is the Cost of a Tummy Tuck in Beverly Hills?
Dr. Omidi will go over the cost of your procedure during the consultation appointment. We look forward to helping you get the most out of life after a tummy tuck procedure in Los Angeles, CA!
Call (310) 281-0155 or fill out our contact form to get started.
References
Boissonnault JS, Blaschak MJ. Incidence of Diastasis Recti Abdominis During the Childbearing Year. Physical Therapy. 1988;68(7):1082-1086. doi:10.1093/ptj/68.7.1082
Baillot A, Asselin M, Comeau E, Méziat-Burdin A, Langlois MF . Impact of Excess Skin from Massive Weight Loss on the Practice of Physical Activity in Women. Obesity Surgery. 2013;23(11):1826-1834. doi:10.1007/s11695-013-0932-0