Brazilian Butt Lift
Conveniently located to serve the areas of Beverly Hills and Greater Los Angeles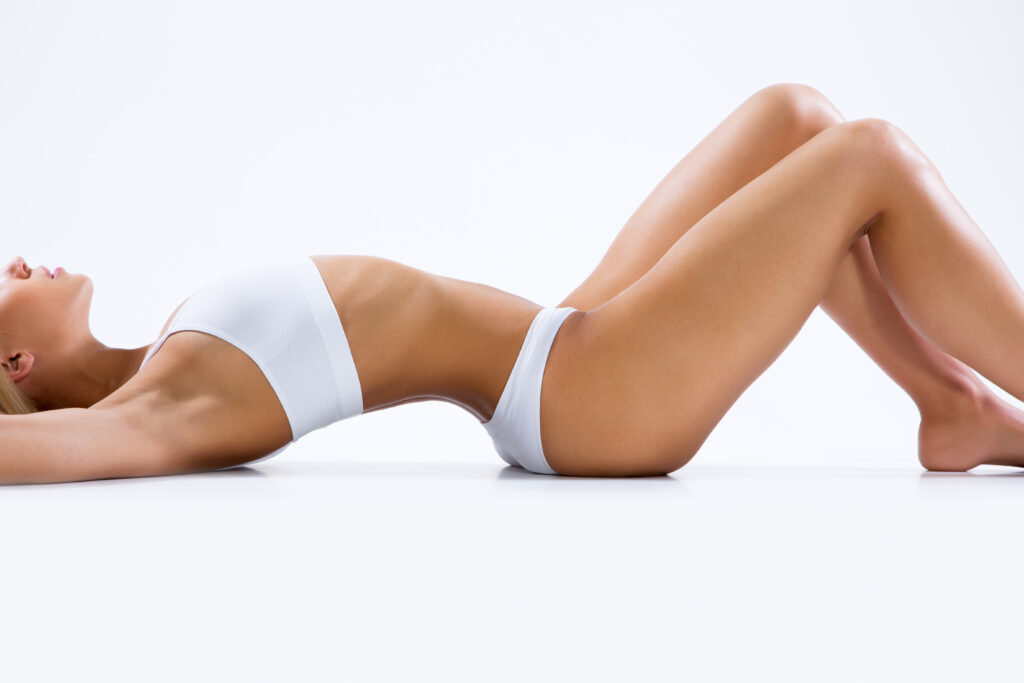 A Brazilian butt lift is a surgical treatment to add enhanced contours to the shape and appearance of your silhouette's lower half. With the growing rise of the surgery's popularity – a 40% increase in annual Brazilian butt lifts since 2014 [1] – Brazilian butt lifts are now an iconic procedure in the world of plastic surgery.
You may have heard of this procedure through celebrity "after" pictures on social media or videos of vloggers chronicling their BBL surgery, but to understand what your unique procedure will entail, you will need to schedule a personal consultation with Dr. Michael Omidi. As a double-board certified plastic surgeon, Dr. Omidi has the skills, knowledge, and expertise necessary to answer all your questions and construct a personalized treatment plan to achieve your desired bum! With his team of expert, friendly staff, Dr. Omidi is one of the most sought-after plastic surgeons in Beverly Hills and the Greater Los Angeles area. If you would like to reach our front desk directly, please call (310) 281-0155.
Before and After Photos
About Brazilian Butt Lifts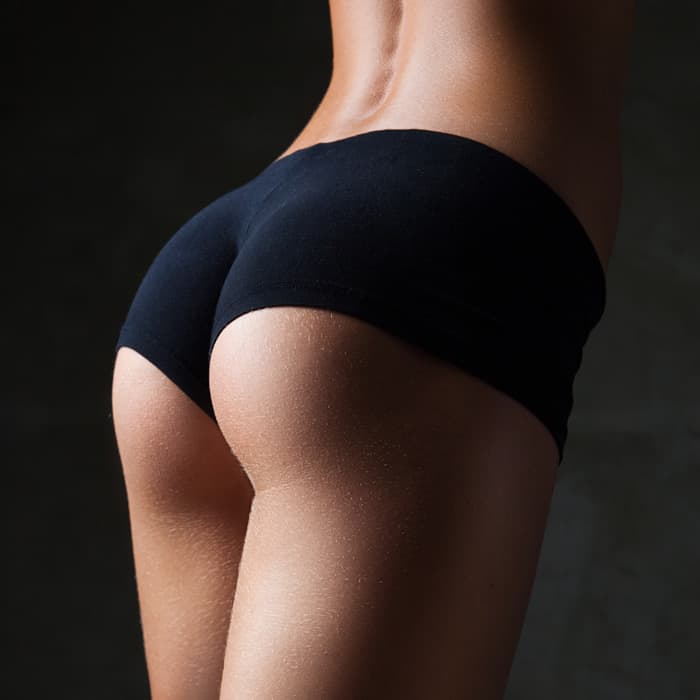 Round healthy buttocks have long been a staple for an attractive feminine physique. Through three different studies, researchers concluded that the ideal waist-to-hip ratio was 0.7 with upside-down heart-shaped buttocks.[2] However, these aesthetic measurements aren't common among women. But, with the growing advancements in gluteal augmentation, more women than ever have been able to achieve these desired contours. In the past, surgeons used gluteal implants to enhance the shape and lift of a woman's bum. However, these implants didn't allow for patient customization, resulting in underwhelming results for many who went with gluteal implants.[3] But, with advancements in liposuction and fat transfer, surgeons quickly learned they can safely transfer fat cells from other areas of the patient's body to enhance the shape and size of their buttocks. By taking your natural fat cells from different areas of your abdomen, thighs, back, upper arms, and breast, Dr. Omidi can re-introduce and sculpt the fat tissue to give your butt a rounder, fuller shape and lift. 
Benefits
Although there are many reasons to choose a Brazilian butt lift, many of our clients love this safe and effective surgery because it:
Erases Certain Curves While Enhancing Others
When choosing a Brazilian butt lift, you can decide which areas you wish to have diminished through liposuction. Hard-to-lose fat can be unresponsive to proper diet and exercise and may linger on your physique. But, by extracting organic fat cells from your body, we can purify and cleanse them before re-introducing them to your tissue. Once relocated to your buttocks, the transferred fat cells are molded and sculpted to achieve your desired shape and appearance.
Real, Natural Results
While surgeons used gluteal implants in the past, this led to results that didn't adjust to any changes in weight. If weight was gained, results would be diminished, and if weight was lost, the entire body would appear unbalanced. But, because your own natural fat cells are utilized in a Brazilian butt lift, your butt can adjust to that new diet or fitness trend without losing its rounded lift.
Candidates
For those interested in a Brazilian butt lift, it is important that you:
Be In Good Health
A Brazilian butt lift is a surgical procedure, so common surgical requirements are necessary to make sure you're eligible for this treatment. First, we ask that if you smoke to discontinue for a couple of weeks before your procedure and the entire duration of your recovery. Nicotine is known to constrict blood vessels which can hamper the body's natural healing response. Second, we ask that you be free of any pre-existing conditions that may interfere with general anesthesia. This can include being at a high BMI score and high blood pressure. Dr. Omidi will determine if you are fit enough to undergo this procedure during your consultation.
Have Realistic Expectations
Before your consultation, it is important to understand that Dr. Omidi is committed to your safety above results. As an expert surgeon, he will never do anything to risk your safety for an aesthetic, so it is crucial that you come to his care with realistic expectations of what this procedure – and his efforts – can do.
Have Unwanted Fat
Because a Brazilian butt lift utilizes your own fat cells, it is important to have unwanted, excess fat to use. For patients who do not have enough usable fat cells to achieve their desired buttocks, you may be asked to gain a couple of pounds before the day of your procedure.
Be Able To Take Time To Heal
To recover from a Brazilian butt lift, you will need to avoid putting any pressure on your behind to allow the relocated fat to heal properly. This means you will not be able to sit or lie down for the first couple of weeks after your procedure. So, be sure to adjust your home and schedule accordingly to accommodate for proper recovery.
Personal Consultation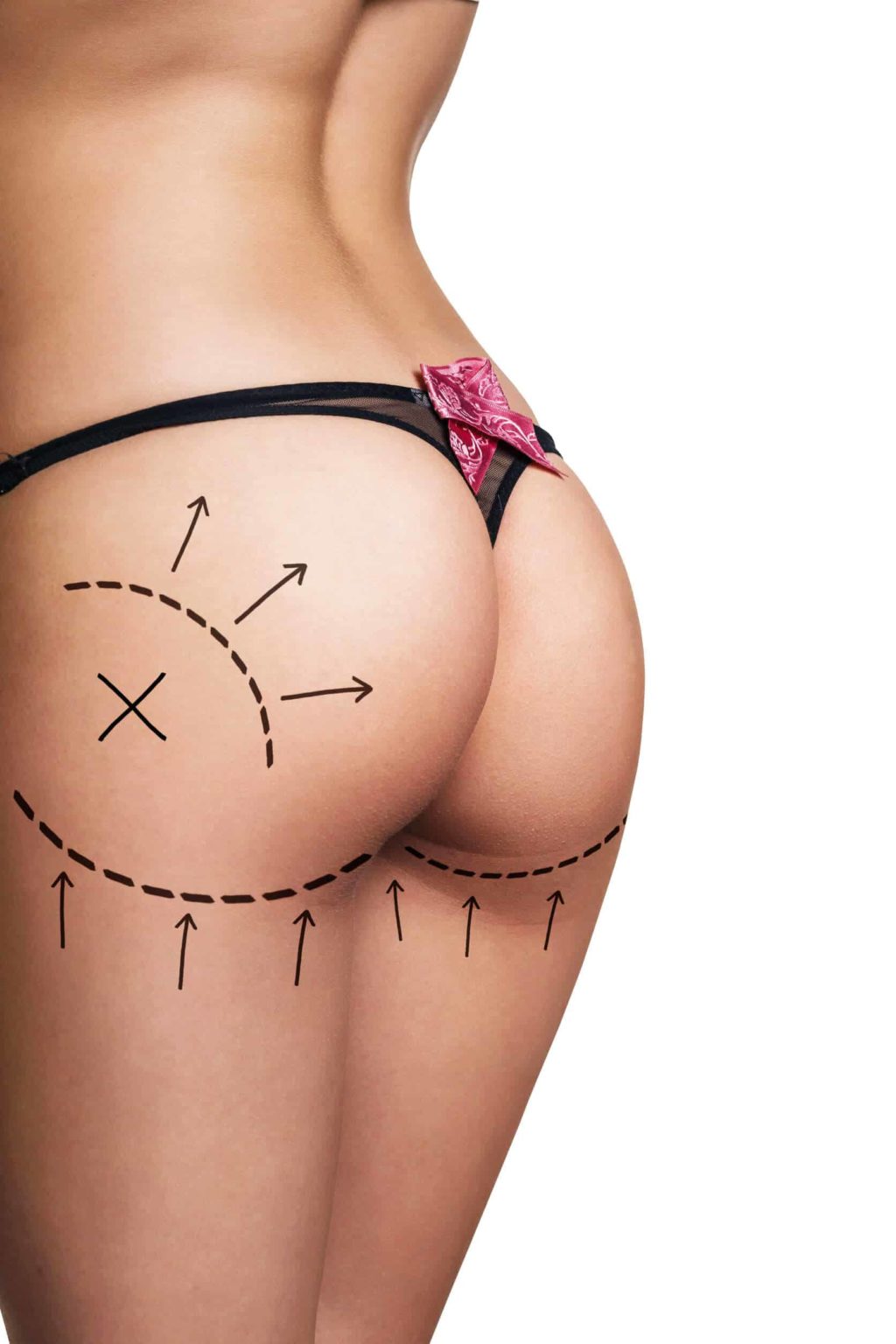 With 15 years of expert experience, Dr. Omidi has acutely fine-tuned his techniques to better achieve his patient's desired results. For three consecutive years, Dr. Omidi has been ranked the #1 plastic surgeon in Beverly Hills by RateMDs and has accumulated many loyal patients who come to him for all their cosmetic needs. The first step in this process with Dr. Omidi and his team is to schedule a personal consultation at our Beverly Hills location.
We will begin with a brief physical examination and a new patient intake interview. This will help gauge your eligibility for a Brazilian butt lift. Next, Dr. Omidi will ask about your ideal buttocks' shape and then inspect possible donor areas around your body. Doing so will give him the information he needs to construct your personalized treatment plan. Then, if you and Dr. Omidi determine that a Brazilian butt lift is the appropriate course of action, we will schedule a time and date for your surgery. Before you leave our care, we will give you a list of preparatory steps that you should adhere to between these two meetings to achieve optimal results.
Preparation
When preparing for your Brazilian butt lift, you will need to:
Avoid nicotine and alcohol
Ready your home for proper recovery
Designate a caregiver to drive you home and tend to your needs for the first couple of days
Fill all prescriptions we give you beforehand
Procedure
Dr. Omidi will begin your procedure by first going over your treatment plan with you and answering any last-minute questions you may have. Then, once the appropriate anesthesia is administered, he will expertly liposuction the agreed-upon donor areas. Then, he will sanitize and purify the fat cells. This process ensures they are properly prepared for reentry. Then, with the fat cells in syringes, he will inject the donor fat subcutaneously between the buttocks' skin and muscle. From here, he will work to mold the fat to your desired shape and appearance. Once Dr. Omidi has achieved your desired aesthetic, he will wrap your butt and other treated areas with a surgical compression garment and make sure you are ready to go home to focus on recovery.
Recovery
Because this procedure can target many different areas of your body, it is important to be hyper-aware of where you're applying pressure. For the next couple of weeks, it is important to not sit or lie down on your behind and to not bump any other treated areas – this might interfere with the body's healing process or disturb the sutures. At your follow-up appointments, Dr. Omidi will be able to determine where you are at in the healing process and whether or not you may discontinue wearing the compression garment(s). Do not take any blood-thinning medications such as aspirin or ibuprofen as these will obstruct your body's natural healing abilities. If you need help with pain management, be sure to speak with one of our nurse practitioners.
Results
Once you have fully recovered and healed, you will notice your behind looks more voluptuous in form-fitting clothes. As the swelling continues to subside, you will notice that the lower half of your silhouette is more shapely and round, giving you a sexier, sleeker frame. The areas that underwent liposuction are evenly contoured and will continue to improve as your healing progresses. Now, you will be able to live life with your ideal physique!
Corresponding & Complementary Procedures
Many patients who wish to add volume to the lower half of their silhouette often also want to have a  balanced upper half. To do so, Dr. Omidi recommends breast augmentation. With breast augmentation, women can choose the physical characteristics of their breasts by adding differently sized and shaped implants to their breast pockets. If you would like to see how Dr. Omidi can completely rejuvenate your silhouette, please don't hesitate to schedule a consultation at our Beverly Hills location today! Also, if you're a new patient, be sure to learn more about Dr. Omidi and his practice by keeping up-to-date with his blog.
Cost
The cost of your Brazilian butt lift will vary depending on the surgical requirements needed for your procedure as well as the number of areas treated with liposuction. The exact price will be determined in your consultation. To reach our front desk directly, please call (310) 281-0155.
References
2019 Plastic Surgery Statistics. (2019). American Society of Plastic Surgeons. https://www.plasticsurgery.org/news/plastic-surgery-statistics?sub=2019+Plastic+Surgery+Statistics
Cuzalina, A., & Retana, A. (8 C.E., March). Creating the Ideal Buttock (Lifting, Implanting or Fat Grafting). Intech Open. https://www.intechopen.com/chapters/66046
Rosique, Rodrigo G. M.D., Ph.D.; Rosique, Marina J. F. M.D., Ph.D.; De Moraes, Carlos Gustavo M.D. Gluteoplasty with Autologous Fat Tissue, Plastic and Reconstructive Surgery: May 2015 – Volume 135 – Issue 5 – p 1381-1389 doi: 10.1097/PRS.0000000000001167 https://journals.lww.com/plasreconsurg/Abstract/2015/05000/Gluteoplasty_with_Autologous_Fat_Tissue_.21.aspx