Facial rejuvenation is a suite of surgical and non-surgical treatments to restore a radiant appearance, reduce the common signs of aging, and bring out a younger, more confident you! By addressing wrinkles, sunspots, volume loss, and other aesthetic blemishes, Dr. Michael Omidi MD, FACS, and his Beverly Hills team can remedy your appearance with safe and effective treatments for clients of all ages. From simple injectables to comprehensive facelifts, Dr. Omidi has the skills and expertise necessary to help you look exactly how you feel on the inside: young and vibrant. The first step in achieving your ideal appearance is to schedule a personal consultation at our Beverly Hills offices. We will answer any unique questions and create a personalized treatment plan to address each cosmetic concern. To reach our friendly front desk, please call (310) 281-0155.
Before and After Photos
About Facial Aging
No matter how old you are, wrinkles, sun spots, and loose skin can gradually worsen on your face. While different topicals, exfoliators, and supplements market as the golden ticket to younger, more radiant skin, many clients report unsatisfactory results once they've gotten to the bottom of the product. Facial aging is controlled by two types of factors: intrinsic and extrinsic aging.[1] Intrinsic factors include the inevitable physiological process like dry skin, wrinkles, and skin sagging. However, extrinsic factors like smoking, air pollution, poor nutrition, and sun exposure result in rough skin, deep wrinkles, and loss of skin laxity. To treat facial aging, a trained plastic surgeon has to address different areas of concern in hopes of restoring the entirety of their patient's appearance. Commonly, there are three main areas of treatment when it comes to facial rejuvenation:
Fine Lines & Wrinkles
To keep our skin tight and smooth, collagen and elastin fibers provide structural support inside our dermis. These fibers create a helix band that is tensile and resilient against external changes during our youth. However, factors like large doses of UV light degrade our skin's collagen and elastin fibers, causing them to weaken and lose elasticity.[2] Over time, as these bands weaken and the production of new collagen and elastin fibers wanes, our skin loses its ability to fight off wrinkles and fine lines to form over our complexion.
Hyperpigmentation
Our skin cells absorb too much UV light and undergo physical changes with prolonged and unprotected sun exposure. With too much sunlight, uneven brown spots form on our complexion. The UV light triggers and exacerbates epidermal pigmentation.[3] These sunspots often appear in places with constant sun exposure like the face, neck, and hands.
Volume Loss
Due to volume loss, our skin can start to sag in areas like the cheeks, under the eyes, and neck. As our collagen supply dwindles with age, our bones weaken and begin receding inwards. This causes areas like our cheeks and under our eyes to appear hollow or sunken with age. However, in our neck, the subcutaneous layer of fat gradually diminishes, which makes our skin appear loose and thin around our necks and jawline.[4]
Surgical Procedures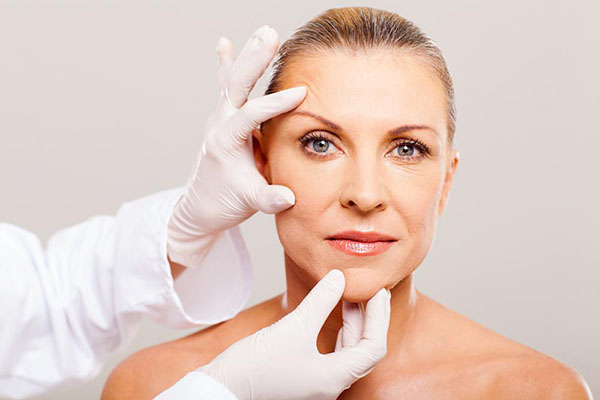 For those interested in lasting results, a simple surgical procedure is likely the solution. Dr. Omidi's surgical facial procedures include:
Eyelid Surgery
Excess fat and skin around the eyelids can make you appear older and less alert. In severe cases, this excess tissue can impede your vision. With eyelid surgery, Dr. Omidi can safely tighten the eyelid skin while sculpting away any excess tissue.
Chin Surgery
The shape and projection of your chin is an important feature of your overall appearance. With chin surgery, Dr. Omidi can boost the contours of your chin to diminish the site of a weak chin or erase the appearance of a double chin. By giving you a stronger, fuller chin, Dr. Omidi can build out your jawline and improve the definition of your face.
Facelift
To correct wrinkles, fine lines, and volume loss all in one treatment, Dr. Omidi utilizes a facelift. By making discrete incisions around the hairline or ears, Dr. Omidi can gently pull back the face's skin and reposition the underlying muscles and tissue to a brighter, more upright position. Since every patient ages differently, you can select from either a full, mid, or mini facelift to best achieve your desired appearance.
Non-Surgical Treatments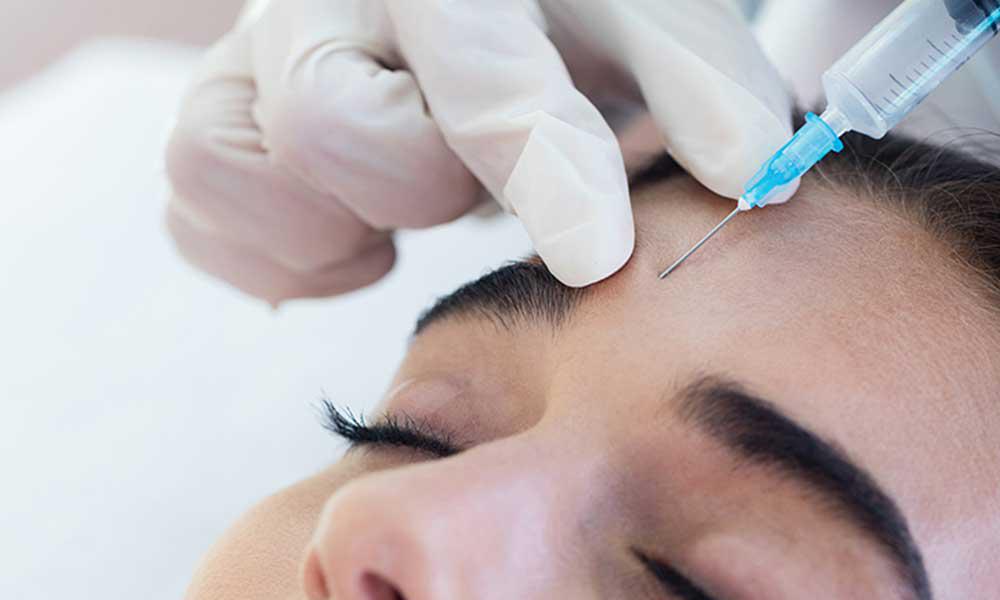 For those interested in facial rejuvenation but don't wish to undergo surgical preparation or recovery, we recommend checking out our list of non-surgical services. Because of their simple applications, these non-surgical procedures require little, if any, recovery time and are effective solutions for those with a busy schedule.
Botox
As the number one most popular cosmetic procedure in 2020,[5] Botox can treat just about any wrinkle or fine line on your complexion. Botox uses Botulinum toxin type A, a safe neurotoxin that paralyzes the muscle from contracting. Because the muscle is unable to move, the overlying skin smooths out. As a result, patients who choose Botox can see a younger complexion for months to come.
CO2 Laser
The CO2 laser uses thermal energy to diminish wrinkles and fine lines as well as restore a more uniform complexion. It does so by creating micro-channels in the skin. These micro-channels trick the brain into thinking the skin has been injured, so the brain sends restorative chemicals like collagen and elastin. This new influx of collagen and elastin repair the skin's inner structure and replaced hyperpigmented cells.
Dysport
Like Botox, Dysport uses Botulinum toxin type A. Unlike dermal fillers, Dysport is not injected into the dermis but rather into the muscle. It is used to treat areas like deep forehead brow, glabellar lines, and crow's feet around the eyes.
Morpheus 8
Morpheus 8 couples the benefits of rejuvenating radiofrequency and microneedling. The device's microneedles – charged with thermal energy from radiofrequency – dive deep into our dermis to activate the cells responsible for collagen and elastin production. After the treatment, the body sends a rapid influx of collagen, elastin, and growth factors to repair the skin from the inside out. It is the perfect solution for a wide array of conditions.
Juvéderm
Juvéderm is a popular hyaluronic acid dermal filler that goes directly into your skin to add volume, smooth out wrinkles, and better contour certain facial features. Hyaluronic acid is a naturally occurring compound in our skin that helps improve our skin's hydration and moisture. When injected, the hyaluronic acid gel instantly adds volume while gradually binding with our skin's water molecules to promote a younger, more radiant complexion for months to come.
Kybella
Kybella is the only FDA-approved injection to treat fat under your chin. The Kybella injection breaks down the fat cells and converts them to amino acids. Soon, white blood cells wash away the converted fat cells and trigger new collagen production. With Kybella, the fat is stripped from under the chin and the overlying skin is tightened to promote a slender, more defined jawline.
Laser Hair Removal
Unwanted, unsightly hair around our face can be redundant to treat through waxing, shaving, and tweezing. However, with laser hair removal, patients can see a life-long removal of hair from their faces and many other areas of their bodies. The laser energy targets the root of the hair, hampering any future hair growth for the treated follicles.
Microneedling RF
To stimulate collagen and elastin production, microneedling with radiofrequency is a simple yet effective solution. By using a device to measure the precise depth, microneedling with radiofrequency can target the exact layers in your dermis to restore a younger-appearing aesthetic.
Radiesse
Radiesse is a simple dermal filler that uses calcium hydroxyapatite to stimulate collagen receptors and invigorate collagen production in our skin. This injection is perfect for those who want gradual results that improve with time. As the new collagen fibers replace the old, wrinkles and fine lines disappear from your complexion and your skin begins to look younger – more resilient to extrinsic and intrinsic factors.
Personal Consultation
As a double-board certified plastic surgeon, Dr. Omidi is one of the most sought-after aesthetic professionals in Southern California. Having performed thousands of facial rejuvenating procedures, he and his team are ready to help you achieve your desired appearance. The first step is to schedule a personal consultation at our Beverly Hills offices. Here, we will examine your unique conditions and recommend a complete treatment plan to address each of your cosmetic concerns.
Cost
The cost of your facial rejuvenation with Dr. Omidi will depend on the service you receive. We will determine which procedure is right for you during your consultation. If you wish to learn about our financing options, please visit our financing page or call our front desk at (310) 281-0155.
References